March 14th, 2010
Due to some technicalities, this didn't get online sooner. Pi day seems the perfect opportunity to put this straight, so here it is …
One of the prizes of the Westtalent contest was a free promo shoot by the in-house photographer, yours truly. I was very pleased to see that award going to my friends of SX, because I knew they wouldn't make it easy.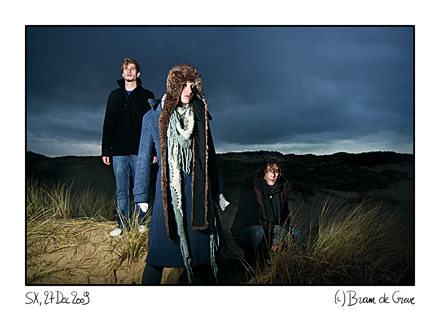 The band had chosen the dunes of De Panne as location, and proposed a general idea around which we experimented a bit on the "set". We wanted the light to look artificial, so I brought along several speedlites and some PocketWizard magic. This was my first real experience with speedlites, so obviously I've made a lot of beginner mistakes. For example, though I had multiple heads and stands, I didn't set up any backlights to accentuate the contours. Instead I combined them to one single key light to get more power, while I should have cranked up the ISO instead.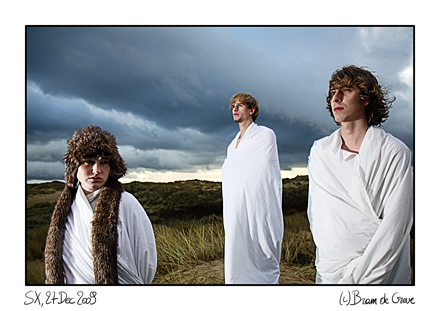 All things considered, I'm very pleased with the results. The location was great, the weather dramatic. The colours blended nicely together, and the rain didn't spoil too many shots. Though I should have kept my lens cleaner, to avoid any flares. And playing with speedlites is just too much fun: underexposuring the background, and hitting hard the subject with a flash of light … nice! Though there is still much to be learned on that topic!
link the complete photo series.