December 6th, 2010
In the backstage of last SX gig, there was a nice red sofa and an old fashioned lampshade which I deemed perfect for a quick photo session. So I asked the bandmembers to make themselves comfortable, and without fussing around with speedlites – I didn't have them with me anyway – the shoot was over in a matter of minutes. As often is the case, you get some of the best shots at the very start or very end of the session, when you catch them off guard. And so I got this wonderful picture of Stef.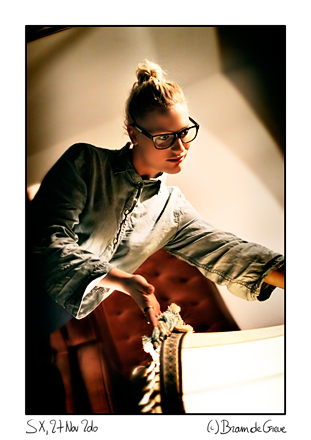 I was stupid enough to leave the sensitivity at ISO 3200, so the raw images turned out quite noisy. But in retrospect that was a blessing too. While the images are heavily processed to combat the noise, it only got interesting when I tried pushing it a bit further. I started with the noise removal filters maxed out, but that wasn't enough to clean up the entire image. So a blurred version was layered on top to further soften the background and skin tones. And this is when I started noticing some paintish effect I actually liked. Especially by retaining this layer in the corners to give it washed out look, the attention is drawn to the center. And together with heavily burned borders, you get a nice poster effect.

link the complete photo series.