July 9th, 2008
It's been exactly two months ago that I've followed QuiOui for a second time to a concert. But somehow, I've only now managed to get all pictures online … Place to be was JC Ten Goudberge in Wevelgem. The concert bill featured all medallists of Westtalent 2007: Low Vertical, QuiOui and Steak Number Eight.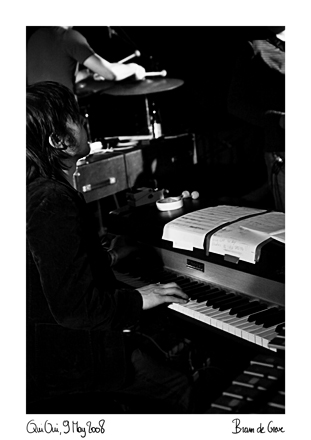 The lighting conditions were difficult at best. Two stands with four spots each in impossible locations with colour combinations of which I didn't know they existed. For Steak Number Eight, they altered it to mainly reds with some spots on the floor behind the drums. Which was actually very cool to see, but possibly even worse for picture taking. The f/2.8 of my 17-55mm was just too slow, and the 50mm f/1.8 was constantly hunting for focus. So at the end, taking pictures was more a matter of sheer luck.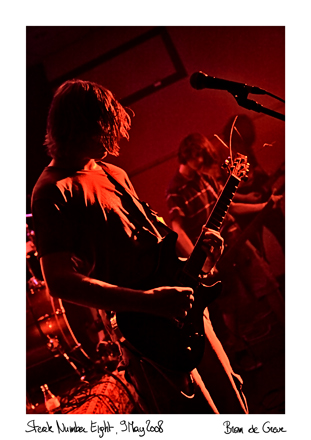 Though the pictures aren't great in an absolute sense, there are still some that I really like. Most of them are very low key and have to build upon atmosphere rather than sharpness. In case of Steak Number Eight, I've tried to exaggerate this by applying an unsharp mask with a very large radius to the lightness channel to increase the local contrast.
Links to complete series: Low Vertical, QuiOui, Steak Number Eight.