July 10th, 2008
The night after Best of the West (see previous post), two members of QuiOui performed at Vijverpop as the Waxdolls. They are called the electropunk revelation of Bruges or Ghent (depends on who's reporting it =), and they definitely have a bright future ahead.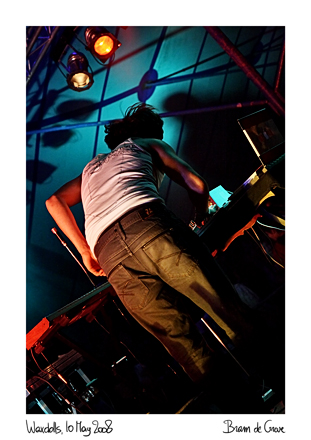 Vijverpop is a festival organised by a school in Bruges. Though it is a very small festival, it cleary showed what difference it makes when there's enough light and a bit of smoke. Enough light means you can shoot at faster shuttertimes and have more pictures that are sharp and well exposed. With a bit of smoke, you get nice colours all over your image instead of ugly walls and ceilings.
Being very pleased with the colours, I didn't even try to convert to black and white. Instead, I even increased the local contrasts and colour saturations to give it extra punch. It does fit the electropunk better, I think.