November 25th, 2008
A couple of weeks ago, I accompanied After All to a gig for the second time, , . And just like the previous time, it was a great experience. The venue was JC Togenblik in Beveren-Waas, Belgium of course, where the fifth edition of the Blikfest metal festival was organized. I didn't see much of the rest of the festival, except for Thurisaz of which I also have some pictures. My only interest was to capture the trash metal attack from Bruges.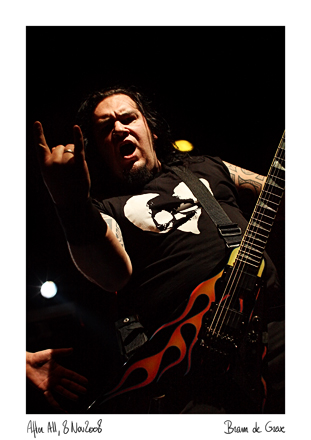 It must have been one of the first times I didn't have to battle against dim lights. Apart maybe for the Waxdolls gig. Most shots had comfortable fast shutterspeeds. Fast enough to use my telelens and still get crisp shots of the drummer. The lack of smoke did help as well of course. There's nothing that ruins a distant shot like a thick cloud of smoke.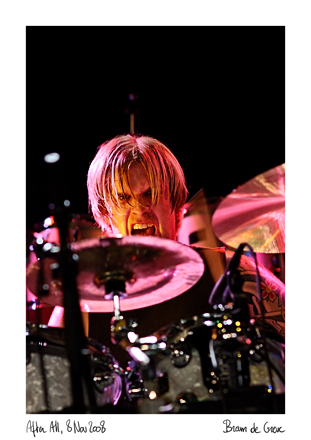 So, plenty of technically successful shots to go home with, and many have ended up in the gallery. Maybe too many. But somehow, I can't help feeling they don't have quite the same ring as my other shots. It's almost like they are too clean … No smoke gives you crisp shots, but at the same time you loose colourful backgrounds. Instead, you get a dull black hole. Still, I have one favourite shot, which is this black and white one: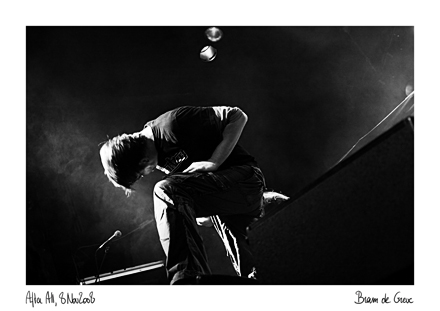 At any rate, I had a great time, begging for more. Here's to After All, thanks for the hospitality and the ride, it is much appreciated!